Baby Boyfriends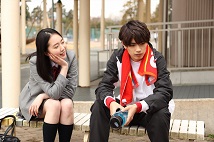 Ⓒ ABC TV
Your heart skips a beat! Here's a bittersweet love story of junior boys and senior girls. Surely, you will want to fall in love with someone after watching. "Junior boyfriends" are now attracting more attention from many girls. They're cute, energetic, and a bit cheeky… You would find "your story" among the variety of episodes.
This bible of modern romantic series makes you laugh, impressed, and far gone in love!!
The series comprises ten episodes, each including two short stories of 15 minutes! We will deliver fresh and sometimes sympathizing love stories of "senior girls" and "junior boys" in various situations.
Episodes
30 min x 10 episodes (2 short stories in each episode)