K-BOYS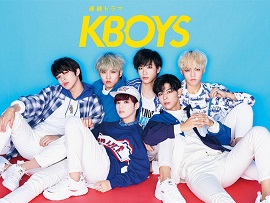 Ⓒ ABC TV
Haruka Ishiyama, Tadashi Yamamoto, Kaito Higa, they are ordinary just young boys of these days.
One day, Tadashi and Kaito go out to game some girls. However, they find those girls they try to hit up are like all possessed by "K-POP"!
Tadashi and Kaito are surprised by the girls' almost abnormal enthusiasm about K-POP. They Haul Haruka in and the three together go and visit Shin-Okubo where is a mecca of K-POP. There the whole town is over frown by K-POP information. They are shocked by the excessive frenzy of girls there.
Getting excited by this enthusiasm, they take the master at his word at a nearby café they drop in, "OK, we WILL be K-POP idols!?"  This is how they have decided on aiming at realization of this fancy haphazard!
Haruka, who has always been swayed by the other two and followed their whim, cannot refuse them this time either. Now, they truly start moving toward this project of making themselves K-POP idols. The first action they hit on to take is to turn to Tadashi's elder sister to help putting makeup on their faces, the "K-POP idol makeup" which is their very first time face makeup experience ever since they were born.
Haruka who follows the other two boys reluctantly has his face made up and finds a different face in the mirror, and surprisingly, he feels sort of excited.  In his mind, something begins to sprout to support this totally crazy exercise. Aoi, who knows Haruka from childhood, also gradually starts feeling some difference in Haruka which is seemingly changing his passive character to the active side.
They start studying K-POP with help from the café master and the regular café customer who has a mysterious atmosphere called Mayumi, and begin to embark on this ambitious project of making themselves K-POP idols. In an unexpected turn of chances, these three boys come to make a group with Haruto Nishijima, a senior student of the same high school and a K-POP lover and also can dance, and a classmate called Daisuke Kawaguchi who is good at singing rap. Now, the group has five members and makes strenuous training efforts.
To add to the group, one junior student of the same high school, Takumi Yazaki has come to join them, strongly interested in their activities. The severe training imposed on all of them stirs up the fire of their passion of "seriousness" in their minds.
The above is how the seemingly foolhardy challenge of the three boys begins to come on a track to K-POP idols!
Episodes
30 min x 10 episodes