School Girls' Rock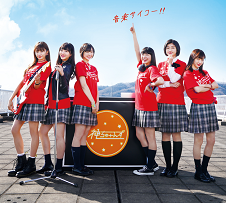 Ⓒ ABC TV
"Many Gods dwell in music"
Rin Tokura (Hinata Kashiwagi), a second-year high school student dreams to be a 'God' with music. The music creators who can heal our hearts and shake us with emotions is nothing but the 'God'. Unfortunately, Rin has no talent for guitar, and quits the school's music band only after her yearly attendance. However, playing the instruments is not indispensable skill for creating music nowadays, Given the courage gained from the 'slogan' of the music application; that is to say; 'Just originality and energy make music', she strives for realizing the idea of how her humming can create the music, using the desktop music (DTM) every day.
Yaeko Omiya, a good friend and listener of Rin cheers her up, assuming Rin as a cynical person. As a matter of fact, Rin who has unique sensitivity as she relates her character to famous music creators is a unique existence in her class. But she is not the type of girl who always goes her own way but the one who has the boy in her mind and the girl whom she feels annoyed. One of the girls is Azusa Tachibana, a dance club team member, ranked at the top position in the hierarchy of the high school girls' elegance, builds a good relationship with Masaki Sawada, a boy in Rin's mind. Furthermore, in contrast to Rin, Rumi Fujiwara, being active in the school's music band and shortlisted for the finalist in the music festival which is the most renowned among teens, casts the shadow on Rin's mind. Haruka Kasahara, the oddest and smartest person in the class, happens to observe Rin dubiously.
One day, Rin sees Masaki and Rin being together at school. Rin follows them unintentionally, but she bumps into a person in the crowds. When she stops to say sorry to that person, it turns out that the one is Taylor Eiri, a popular model!
After a while, Rin is scolded by Taylor's manager and loses sight of Masaki. By music, she tries to change her melancholic mood as if it were accumulating grouts, she is engrossed in making music at home. On the next day, Rin gets the invitation from Masaki, which is the final public examination of the festival in which Rumi will perform! In addition, Masaki happens to hum the melody which Rin is composing, and the wonderful destiny cannot stop making her heartbeats. However, the big accident occurs at the final selection where Rin goes in a jovial mood! Rin is toppled into the bottom!
Episodes
30 min x 10 episodes