Stream Ahead!!!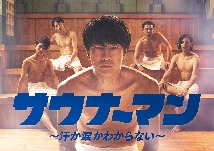 Ⓒ ABC TV
(Original Title: Sauna-man)
Starring: Hidekazu MASHIMA
People go to the sauna to have a good sweat. However, this public sauna "Namida-yu" where Yoshitomo Kuroyanagi stopped by, was a very unique sauna with the catch-phrase "a place to have sweats and tears". Some ask advises of romance, some complaints about their family, some talk bittersweet old day stories, and so on.
Whoever comes to this sauna, he gets his heart relieved, loosen up his emotion, and just cries. Yoshitomo who had no heart for ten years was a new guest to this sauna, but the member warmly welcomed him. He found his new place at "Namida-yu" and visits every day to enjoy the chaotic and enthusiastic atmosphere.
A man that never cries, never laughs, hates to touch others, and cannot even shake hands, starts to communicate with naked and open people in this special sauna. Eventually, Yoshitomo gets his emotion back that has been forgotten for a long time…
Episodes
30 min x 10 episodes/10 min x 30 episodes