DELICIOUS BOYS THE MOVIE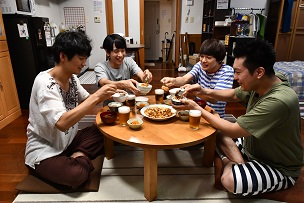 🄫Otokuni/libre 2018 🄫Okazukun Project
Dishes cooked on Friday night after work is delicious!
While NISHIO, HIGASHIRA, KITA and NANGO who stay in the male dormitory for employees, struggle dealing with unusual clients working at the Minato Advertising Company, they devote themselves into their work with the mission of "creating an advertisement of happiness."
The new project from "Enoshima Gourmet Association," obtained by winning the competition against their rival telegram company, is about the production of a town magazine for gourmet in Enoshima, introducing restaurants that haven't been published in any advertisement in the past.
Tora, who is from Enoshima, introduces an Italian restaurant whose owner is the father, Tomokazu NAKANO, of his senior from high school, Mika NAKANO to Okazu-kun, who was stuck with his work.
Okazu-kun who had delicious Pescatore, offers them to be published on the town magazine, but ends up getting kicked out from the restaurant.
What will happen to the dream and the severe reality of "advertising" they face in the summer of their 3rd year at the company?
"TGIF Potluck Party," where everyone brings a dish for dinner every Friday to get rid of fatigue for the week, is also a must-see.