UNTIL THE DAY FREEDOM COMES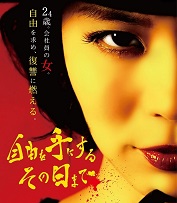 Ⓒ T&Y Films
"She" is a new employee at a medical institution in Tokyo, working as an admin assistant.
She was lonely in the nasty workplace and came down from mental illness because of the repeated harassments. Meanwhile, the relationship with her boyfriend has collapsed.
Then she turned into a demon to take revenge.
After she experimented her plan over and over with her scientific knowledge, she requested a revenge agency to execute her plan. Her aim is to kill all the staffs at the medical institute. Who have harassed her on a
daily basis.
She is now lively like a fish in water with her madness she used to hide.
However, an unexpected obstruction comes in front of her.
What is waiting for her after the revenge?
This suspense film reveals the darkness of society today from new perspective.